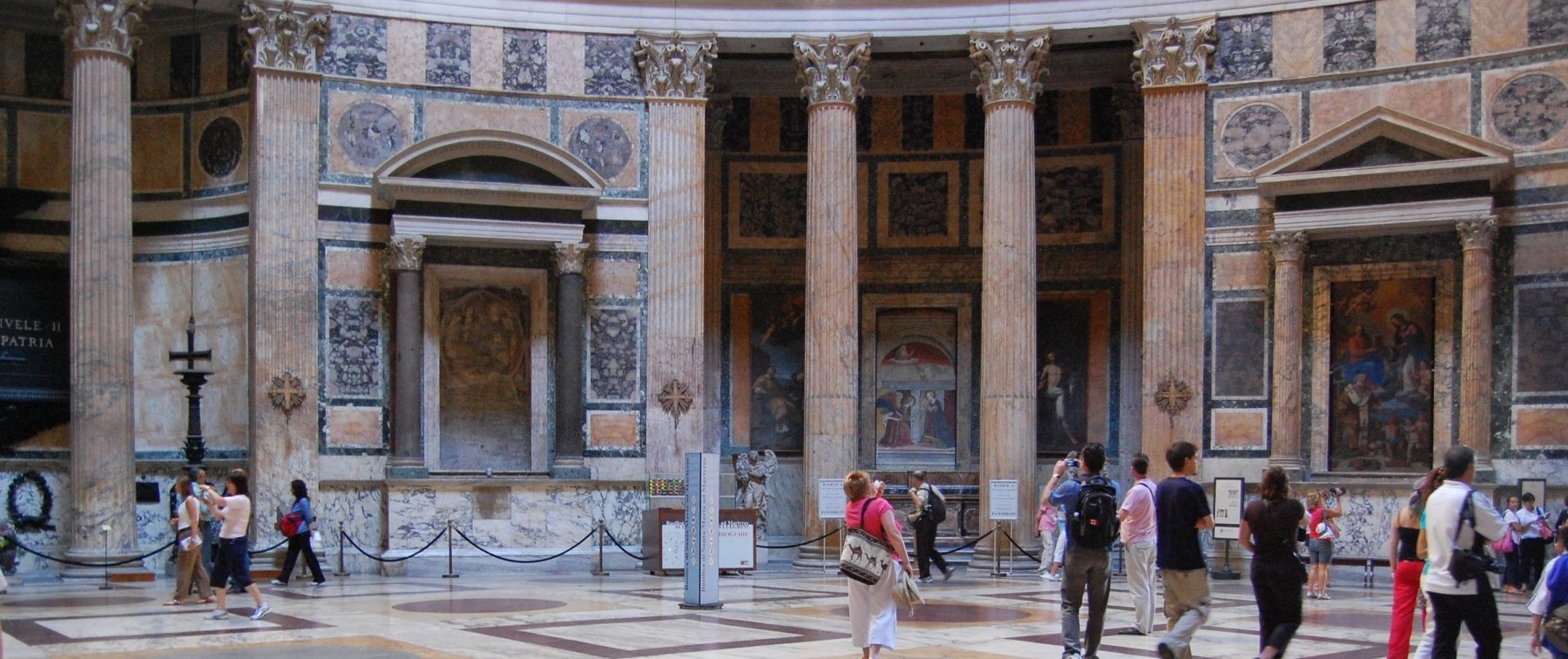 Piazza della Rotonda
Piazza della Rotonda is the square right outside the Pantheon. As the Pantheon's informal name is the church of Santa Maria Rotonda, that's how the piazza gets the name.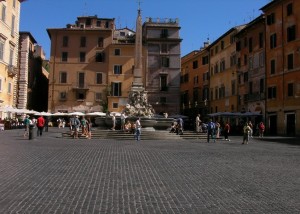 The piazza is not always like the way we see today. The fountain wasn't built until 1575 and the obelisk was added to it in 1711 under Pope Clement XI.
The square was full of shops and sheds at one point.  In the 19th century, the piazza was famous for being a bird market, along side were flower, fruit, vegetables and cake stalls.  It's certainly a busy and hectic market, as described by various travellers and tourist guidebook at the time.
The area was in danger when Napoleon called for demolition of the buildings around the Pantheon during his rule.  Luckily it was never implemented because of the short span of the French rule (1809-1814). There were only a few buildings being demolished in order to enlarge the piazza at a later period.
The Fountain and Obelisk
As we know fountains in Rome is the source of drinking water to the public.  One of the old aqueducts Aqua Virgo had failed to work so repairing and reconstruction took place.  In 1453, the Aqua Vergine was constructed.  But it's not until 1570 when Giacomo della Porta was commissioned to launch a big project to extend the distribution of water by constructing 18 new fountains in the area.  The Fontana del Pantheon is one of the 18 fountains and it was finished in 1575.
The obelisk was one of a pair of obelisks originally from the Temple of Ra in Heliopolis.  One was placed in the Piaaza di San Macuto about 200 meters east of the Pantheon and the other one is still in the Piazza della Minerva (round the back of the Pantheon) erected on the elephant base.  In 1711, sculptor Filippo Barigioni was asked to move the obelisk from Piaaza di San Macuto to the current position.  That's why the obelisk is still called Obelisco Macutèo.